FOR IMMEDIATE RELEASE  
CONTACT:
Susie Nielsen, Gallery Director
FARM Project Space + Gallery
T. 617-650-9800
susie.nielsen@gmail.com  
FARM presents JULIA SALINGER: SOMETIMES I AM SO FULL solo-exhibition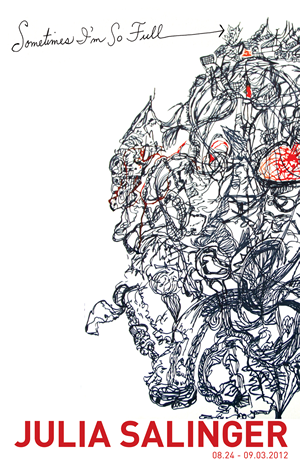 WELLFLEET, MA – FARM Project Space + Gallery will feature a solo-exhibition of artist Julia Salinger, August 23 thru September 4th with an opening reception on Saturday, August 25 from 6–8 p.m. at 15 Commercial Street. An additional show running concurrently at Salingers' Mermaids Grange with an installation and other objects. (address: 245 Briar Lane, Wellfleet)  
"Sometimes I am So Full", will continue Salinger's exploration of the line, and how it gives voice and meaning to her own internal struggles. It features mix media works on paper and a story of book pages.
Salinger's work is writing and visual intertwined. She uses self-generated text in her work. Her quality of line turns words into objects, or landscapes to explore. The work flows with a randomness that enables each viewer to draw his or her own meaning. This makes her work so personal for the viewer, it is yours for the taking. The works are stories that unfold as you travel through them.  
When I first read WB Yeats; "I must lie down where the ladders start in the foul rag and bone shop of the heart"...I understood the mysterious place where word and image breathe and play.
My writing and visual work is interrelated. I know that at times I want to keep the writing separate from the image but they can't help but merge. I think my free associative nature finds its way into both places. In terms of identification…many of my lines are extremely calligraphic. When I am drawing, I feel as if I am writing in space. I love the flow of penmanship, the grace of the line and the electricity of ink to paper. A line speaks in many voices, in sounds, in color and rhythms. Words, like forms, color or line, also has its own language of meaning, nuance, duality and feeling. Each line has its own individual emotional resonance be it of passion, fear, exhilaration, innocence and anger. I like to play with the emotional content of the two in my visual work. It is like a magic mirror, a looking glass…prisms, distortions of something else appear. It is my own gestural patterning—Julia Salinger   
Salinger works in a direct and immediate manner. The element of surprise emerges from the layers. She soaks, beats, scrapes, carves, rips, and punctures the paper. The saturation of information imbues the pieces with a sense of age and memory. The final energized, agitated surface creates a tension between beauty and chaos. It is within the two, that reveal those restful places…that space of stillness in which we are able to reflect and discover. That place in her work, explores what it means to be human. The balance between the tragic and the comic in life.
Explains Nielsen of Salingers work and process: Julia's exploration of the line and where it takes her creates beautiful meandering works. Her balance of what is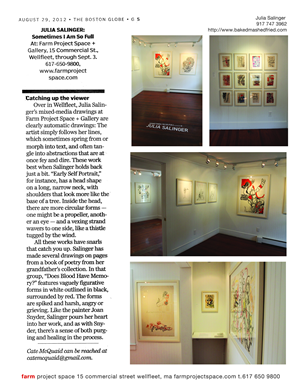 on the paper and what trails off is what makes the work feel so fragile and bold all at once. Working with Julia is exciting because of her tenacity and intensity and yet her playfulness and willingness to let the process unfold.
Julia Salinger's varied art career began as an art historian. Her mentor, Irving Sandler, was the preeminent art scholar who wrote ' The Triumph of American Painting.' She continued her studies at Columbia University and worked for Ronald Feldman Fine Arts as a researcher for five Andy Warhol print portfolios. During this period, she was accepted into the prestigious curatorial program at the Hirschorn Museum in Washington, DC. She has also worked at the Cooper-Hewitt Museum of Design, the Guggenheim, The Neuberger Museum and the Whitney.
Her journey took her into the musical side of the arts, where she managed performers with such diverse talents as Laurie Anderson, Bobby McFerrin, Diane Reeves and Diana Krall. In 1999, Salinger began to focus on her own artwork and since 2000 has shown in numerous group shows and is represented in collections in the US, Europe and Asia.   
For more information please contact Susie Nielsen.  
### FARM is a project space and gallery focused on exhibiting contemporary process-driven art. It is also a graphic design studio with a growing education component. FARM is located at 15 Commercial Street in Wellfleet, Massachusetts. The gallery is open from 11-6 Wednesday through Monday, 11-8 on Saturday, and by appointment. For more information about FARM, please visit www.farmprojectspace.com.