Julia Salinger first landed in Wellfleet many full moons ago, when her parents packed her up in a basket, at the ripe old age of several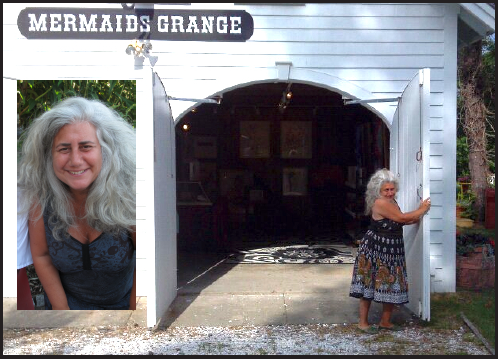 months, and placed her by the briny surf. It was then that she got her first taste of sea and sand. Legend has it thatan older mermaid, looking to leave the waters of Wellfleet and retire to the Italian Mediterranean was in search of a body or vessel in which to leave her old, exotic and salty mermaid soul and spirit. Since there was no Craig's List at the time, she needed to go directly to the source. So, while frolicking in the waves at Newcomb Hollow, she spotted the basket on the dune and released all her mermaid history, lore and soul into baby Julia. When her parents took her back to the house, they noticed she had a grown a magnificent, emerald green iridescent tail. Being the eccentrics they were, they loved this new appendage and knew that she would eventually grow into it. She has, and now, many years later, she has returned to Wellfleet to open Mermaids Grange.
The setting of Mermaids Grange, a picturesque old Wellfleet barn, is where the art of everyday life is savored. It's a welcoming place with open doors, a rustic quirky charm, and a friendly engaging atmosphere.
The founder and creator of Mermaids Grange, artist and poet Julia Salinger, believes that art and life are organically intertwined. She thinks of the Grange as a "Bucolic Bohemia" with a modern twist. Not only can you view her original paintings, collages and prints, but you are welcome into her magical world, where she weaves her passions for art, nature, life, music, food, and laughter into an intoxicating elixir.
This, she hopes, is a place where imagination, creativity, playfulness, and inspiration mix with just the right amount of magic and gypsy spirit to create an artistic world that feeds the soul. A place where life moves at a slower pace...where you can have a good chat, relax, and enjoy yourself.
Whether you live in Wellfleet or are visiting, find your way to the open barn doors for some good old down-Cape hospitality and lots of nourishing art.